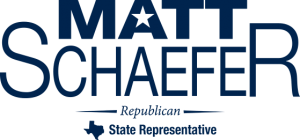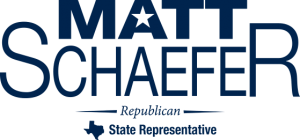 Schaefer Attacks Berman's Record In Initial Debate
Originally Published by the Tyler Morning Telegraph on January 20, 2012
By ADAM RUSSELL
Staff Writer
Incumbent state Rep. Leo Berman, R-Tyler, and political newcomer Matt Schaefer participated in their first public debate Thursday as they seek to represent District 6.
More than 75 people attended the debate hosted by the Smith County Republican Women inside Traditions Restaurant. Berman and Schaefer shared their opinions about property and business taxes and sparred on topics such as term limits and education.
Berman, 76, a retired U.S. Army lieutenant colonel and former Arlington city councilman who was elected to the state House in 1998, is seeking his eighth term.
Schaefer, 35, a Naval Reserve lieutenant commander and former attorney, is a relative political newcomer who has worked as a consultant, researcher and spokesman for a U.S. congressman from Texas, a state representative and most recently U.S. Sen. John Cornyn.
"I don't have all the answers," Schaefer said. "I don't know every budget figure. I don't know every rule that affects the classroom. I don't know how (the Texas Department of Transportation) spends every dollar, but I am willing to listen and first and foremost to East Texans."
Berman followed by talking about his proven conservative record, his 100 percent pro-life voting record and his service as a full-time representative.
"You know me," he said. "I've been endorsed by every conservative organization in the state of Texas."
The two clashed early about Berman's record. Schaefer pointed to Berman's vote to create a new state agency that monitored and increased regulatory controls on home builders in 2003. He said the vote created more bureaucracy in Austin and more burdens on businesses.
Berman said he does not support overzealous regulation. Builders called for regulation because the law prevented unscrupulous construction contractors from operating and protected consumers.
Schaefer said the law was pushed by lobbyists representing major home builders and did not protect consumers but increased costs for reputable builders and small-business owners.
"It meant that the guy who works from a clipboard and his pickup truck faced more jail time and hurdles, but it did not protect consumers," Schaefer said. "It meant those businesses had to go through Austin first."
Schaefer said one fundamental GOP principle is to limit government and Berman's vote created a government agency and increased regulation.
Berman said Texas is a low-regulatory, low-tax state and its economy is the envy of the country because of it.
"That was a conservative vote. Builders wanted it, and it protected homeowners. I do not support regulation," he said. "That is one thing (Gov. Rick) Perry got right. We are a business-friendly state."
In support of businesses, Berman said he would work to reduce franchise tax rates and exempt payments from businesses that do not show profits. Schaefer said property taxes and franchise taxes should be scrapped and the state should garner funding through a "broad-based consumption tax."
Berman said the state has crunched the numbers and that a broad-based consumption tax would mean between 15 cents and 21 cents tax on every dollar spent. State sales tax, where the state gets the bulk of its funding, is 8.25 cents now.
Questions about term limits were posed.
In 1998, one of Berman's platforms during his successful campaign was that he would serve four, two-year terms. In 2004, he said senior House leadership and Perry called on Berman to remain a member to "maintain the conservative continuity of the House." Berman said voters released him from the pledge by re-electing him.
"Seventy percent (of voters) said stay, so I did stay," he said. "For the past three sessions that was confirmed by voters."
Schaefer said the best way to limit terms is through voters.
Both were asked if they would take from the state legislator retirement. Both said they would, which sparked another exchange regarding Berman's 1998 pledge that he would not participate in the Texas Legislative Retirement Program.
"My word and my integrity mean more to me than a retirement system, which constitutes a raid on the Texas State Treasury," he told the Tyler Morning Telegraph days before the 1998 GOP primary.
Schaefer said Berman used the pledges to defeat then Rep. Ted Kamel but reneged.
"It was a big issue when you ran against Kamel," Schaefer said. "You promised of your own volition. No one pressured you into" making the pledge.
In the same article, Berman said "Ted has found the golden egg in Austin," referring to the state retirement.
"I don't recall saying it was a raid on the treasury," Berman said. "I just said he made a term-limit pledge, but he wasn't called by the governor."
Berman said Perry produced television spots where he said, "Don't blame Leo. I asked him to remain."
Schaefer was asked how he would have acted as representative when the city approached legislators to carry the 2-cent hotel/motel tax during the most recent session. The bill passed and the tax money will go toward an event center in Tyler.
The bill was approved unanimously by city officials and championed by the local hotel association.
Berman was asked to carry the bill but refused because he pledges to not raise taxes before every session. It was carried by state Sen. Kevin Eltife, R-Tyler, in the Senate and by Rep. Chuck Hopson, R-Jacksonville, in the House.
Schaefer said it was not the right time for a tax increase and he likely would have acted against it. He said if Berman felt the tax increase was wrong, he could have easily stopped it with an objection.
The candidates agreed that more local control is needed in education but disagreed about standards testing. Berman said standardized testing should end. Schaefer said testing is necessary to ensure tax dollars spent on education are paying for results.
The candidates were asked their stance on school consolidation. Schaefer said it should be a local decision. Berman said administrative duties should be consolidated. He said one superintendent should cover the school districts in Smith County, with assistant administrators below them to monitor each district.
Berman said he introduced a bill to consolidate those duties two sessions ago and plans to do so in 2013.
"By replacing those superintendents with assistant superintendents, we would have saved $1 million here in Smith County alone," he said.
No official date for the GOP primary has been set. Legislative maps are in limbo, awaiting a decision by the Supreme Court. If no Democrat files to run for District 6, the winner of the GOP primary will represent Tyler in Austin.
More debates are expected.
---