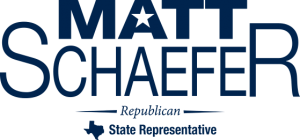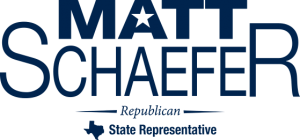 Originally published in the Tyler Morning Telegraph on July 8, 2011
By ADAM RUSSELL
Staff Writer
Nathan Baber, 17, a young political observer and activist from Whitehouse, stood in the mid-day shade around Donnybrook Automotive on Thursday, waiting for the first formal announcement by a candidate for District 6 state representative.
Baber can't vote yet, but he has campaigned door-to-door for candidates in the past. After Matt Schaefer, a former small-town attorney and regional director for U.S. Sen. John Cornyn, announced his intentions to run as a Republican for the House seat, Baber offered himself as a campaign volunteer.
Baber was among about 30 people, including three current county commissioners, Smith County Republican Party members, friends and almost a dozen politically interested teenaged comrades, who attended Schaefer's announcement news conference.
The House seat Schaefer is running for is held by Rep. Leo Berman, R-Tyler, who said he has not yet decided his political future.
Sitting amid attendees, oil bottles and the station's service bell ring, Schaefer said he will run as a God-fearing conservative who believes state government should be reined in.
"When legislators pass laws, they need to think about how they affect people," he said. "If elected, (when considering legislation) I'm going to think about the Stewart family (who owns Donnybrook Automotive) and whether they will have more or less because of it, whether their business and their lives are better because of it."
Schaefer said government should focus on the basics — education, public security and spending wisely.Public and higher education need to be adequately funded, he said, but he added that more money is not always the answer.
He said local districts should have more flexibility but that higher education and accountability standards for students and educators are necessary, as well. Schaefer said he will get "good advice" regarding education from several family members who were educators, including his mother.
Border security and illegal immigration enforcement improves community safety, he said. He said immigration reform is a "tough" topic but that he will take a "respectful but firm" approach to addressing a problem stemming from federal policy failure.Schaefer counseled former state Rep. Carl Isett as chairman of the Sunset Commission, which reviews state agencies, and said the state needs to spend money more efficiently and be more accountable for tax dollars.
Grassroots America — We the People Executive Director JoAnn Fleming attended and said Schaefer's time with Isett has given him perspective on the need to restructure state government. Schaefer has been a guest speaker at the group's meetings. Mrs. Fleming said he "seems to have a good handle on the issues."
"He has a lot of potential to make a great candidate," she said.Wayne Berryman, president of the Smith County Retired Teacher and School Personnel Association, said Berman represented the group well during the previous session and that he wanted to make sure any candidate would represent retired teachers well.
Berryman said he believes the plight of retirees "fell on deaf ears" and that they clearly are dissatisfied with the state's failure to increase payouts based on increased retiree living costs.
Asked whether Schaefer's remarks about downsizing government, after deep expenditure cuts by legislators during the recently ended legislative session, aligned with his cause Berryman said:
"Whether you are a liberal or a conservative, if the funding is there in the pension, it should be given. We just want good representation."
Schaefer said he has not organized a formal political committee, saying his campaign "starts now." He said he has filed an assignment of campaign treasurer with the Texas Ethics Commission, meaning he can begin raising money.
Several names have circulated as possible District 6 candidates.
Sheriff J.B. Smith was rumored to run but said he will not run for the seat or any other elected position.
Former city of Tyler mayor Joey Seeber told the Tyler Morning Telegraph, "I am interested in once again serving the community in elected office" during a phone interview Thursday morning.
Seeber said he has received numerous phone calls of support and that he will make a formal announcement regarding his future political plans before Labor Day.
In June 2009, Seeber announced he would challenge Berman in the 2010 Republican Primary, but he dropped his bid in November.
"I am still interested in opportunities to serve, but this is not the time to split the party," Seeber said at the time.
Berman said he is happy to see young people such as Schaefer entering the political arena. He said as a seven-term representative and after a difficult session, "I haven't decided as yet what my future political plans are.
"But if they include my running for re-election, I will run on my solid conservative record," he said.
The Republican primary will be in March.
Schaefer said he respects and appreciates the years of conservative representation Berman has provided East Texas. He said he made his announcement with a clear understanding from Berman that it would not conflict with the representative's political plans.
Berman said Schaefer's understanding from the conversation was incorrect. He said since Schaefer announced his intent to run, Berman has been questioned by people in Austin and locally concerning the person opposing him for the District 6 seat.
"I have not made up my mind to retire or resign my seat," Berman said Thursday night in response to Schaefer's remarks. "I will make an announcement sometime next week as to my political future."
He called Baber's offer "an honor" and that he is "ready for him to help" with the campaign.
"It's encouraging to know young people are interested in the future of the state," he said. "It shows they have a vested interest and that they will make great citizens."
---