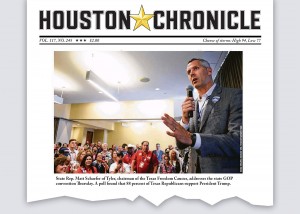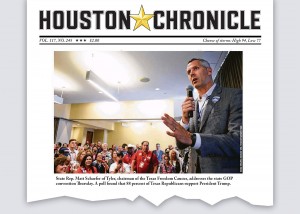 If you live in Smith County, you might be vaguely aware that the Texas Republican Convention recently occurred in San Antonio this summer. And you might have heard through the grapevine that your State Representative, Matt Schaefer, spoke to a standing-room only crowd at the convention.
However, if you live in Houston or San Antonio, this was front page news.

Grassroots conservatives have started a prairie fire, and the Houston Chronicle and San Antonio Express-News were there with pens blazing, and camera shutters snapping. The results can be seen all over the state. The election of a true grassroots candidate, James Dickey, as chairman of the Texas GOP is positive proof.
For far too long the grassroots have been ignored by establishment officials. It's why Matt Schaefer and eleven like-minded representatives banded together to form the Texas Freedom Caucus last session, and why Rep. Schaefer was elected their chairman. It is why the Texas Freedom Caucus will have more members in 2019. They are on a conservative mission to:
Amplify the voice of liberty-minded, grassroots Texans who want bold action to
Protect life, strengthen families, defend the U.S. and Texas Bill of Rights, restrain government, and
Revitalize personal and economic freedoms in the State of Texas.
The Texas Freedom Caucus has been getting results despite being brand new. They drove the passage of the toughest law in the country banning sanctuary cities, helped negotiate the passage of major pro-life laws, and initiated the adoption of a new process for Republicans to select their nominee for Speaker of the House. Recently Texas Freedom Caucus members were invited to the table by Governor Abbott to discuss school safety. It's no wonder the Texas Freedom Caucus presence at the Texas Republican Convention drew attention from major media outlets.
But the true point of pride for East Texas is that the success is due in large part to the people of East Texas. Matt Schaefer took the stage and applause echoed out the door and down the hall by the elevators where the overflow crowd was waiting. NOT because of Matt, but because there is a bunch of liberty-minded conservatives in East Texas that make sure their voice is heard in Austin by electing people who share their values.
You may not have read about it locally, but if the Republican convention is any indicator, people around the state are hearing the voice of East Texas.
---